Benefit from Mecmesin's 40 years' experience as a leader in tensile testing solutions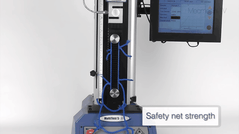 Tensile testing tips and recommendations for accurate and repeatable strength testing
Development and use of new materials, together with changes in manufacturing processes, is broadening the scope of materials testing.
Manufacturers need to stay competitive by shortening development cycles, improving production efficiency and shortening delivery times.
Demonstrating that newly developed or existing materials surpass customer expectations is a vital factor in a product's success and tensile testing is a proven method to achieve this.
Our whitepaper explores...
Tensile testing overview
Machine control of a tensile tester
Selecting grips
Jaw types
Specimen alignment
Extensometers in materials testing
Loadcells
Compression and related test types