Benefit from Mecmesin's 40 years' experience as a leader in developing testing solutions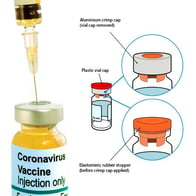 As COVID-19 has rapidly spread around the world, there was a concerted global effort to find a vaccine. Millions worth of international funding helped pharmaceutical companies to develop a vaccine in the shortest time ever. And today the COVID-19 vaccine are saving millions of lives.
Vaccines are administered in several ways: orally; by subcutaneous (SC), intramuscular (IM) and intradermal (ID) injections and via the intranasal (IN) route.
Each of these routes requires the vaccine to be carefully controlled and administered via a medical device.
All medical devices must be tested to ensure they are safe and meet stringent test standards and regulations.
Syringes & Vials Whitepaper
In this whitepaper we provide you with an overview of the force and torque testing methods used to assess the quality and performance of syringes – from individual components through to the assembled device.
Also covered is the testing of the sterile medical packaging in which syringes are delivered and testing of the vial from which a syringe must extract and deliver the medication.